Hybrid Event
Imagine a World BEYOND War 戦争のない世界を目指して
December 10 @ 10:00 am

-

4:00 pm

JST

Hybrid Event

Free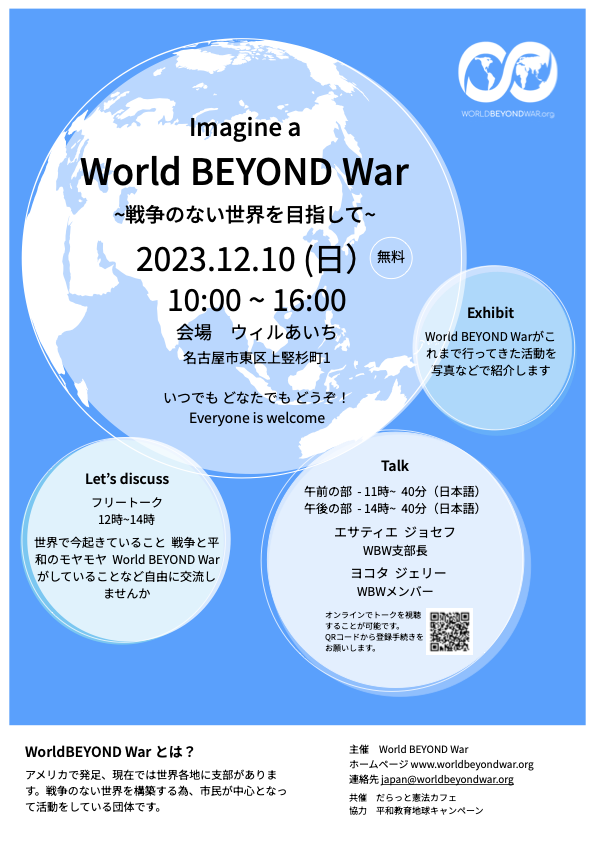 Exhibit: World BEYOND Warがこれまで行ってきた活動を写真などで紹介します。
Let's discuss:  フリートーク、12時〜14時。世界で今起きていること 戦争と平和のモヤモヤ World BEYOND Warがしていることなど自由に交流しませんか。
Talk(日本語):  午前の部は11時。午後の部は14時。エサティエ・ジョセフ(WBW支部長)とヨコタ・ジェリー(WBWメンバー)は団体について説明します。
Exhibit: World BEYOND War will present photos and other information about the activities that World BEYOND War has conducted.
Let's discuss: Free talk, 12:00 – 14:00. Let's talk about what's happening in the world today, war and peace, and the activities of World BEYOND War.
"Talk" (Presentation in Japanese): Morning session at 11:00. Afternoon session is at 14:00. Joseph Essertier (WBW Japan Coordinator) and Gerry Yokota (WBW member) will talk about the WBW organization.